Vedic Relationship Compatibility
The Vedic Relationship Compatibility Report cuts to the chase and looks at the bottom line of you and your partner's relationship.
Does your relationship flow in such a way that there is room for both of you to feel loved and respected?
Are you naturally attuned to each other or are you on a different wavelength?
Will destiny obstruct your relationship making it impossible for you to be completely together, or will any present obstacles in the way of your full commitment to each other go away in time?
Does your relationship attract endless troubles and difficulties, or will it settle down and allow you to build a productive life together?
Are you both equally assertive so that you can have a true partnership without one person dominating the relationship?
And the bottom line - will your relationship flow in such a way that you both become better, happier people and more loving?
Order your Personalized Vedic Relationship Compatibility Report to find out if he or she is the right man or woman for you.
Birth Time Requirements: Ideally birth time should be accurate for both you and your partner, so get your birth data off your birth certificate if you do not already have it. If you do not know your or your partner's exact birth time, but just know the general hour or time of day, then you can still get the report but you will have to ignore the Assertiveness part of the report. This is the last part of the report, found at the end of the report. It is the least important part of the Vedic Relationship Compatibility - I actually did all my readings without considering Assertiveness for the first 8 years of my practice without any failings.
---
Email Me when New Reports are Available
Relationship & Compatibility Reports
"It is in the area of human relationships that I find astrology to be the most useful. No other part of our life can be as perplexing, confusing and painful as love - so astrology to the rescue!" -Ernst Wilhelm
~
~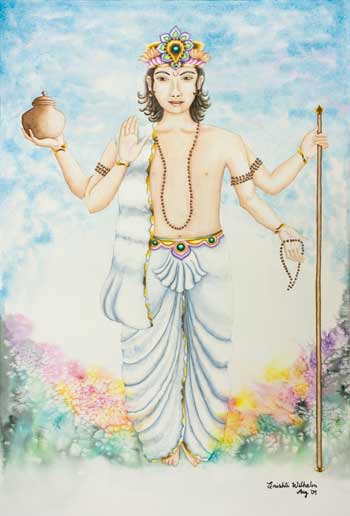 Mythical Image of Venus to Guide you in your Relationships
~ ~ ~
"That's great I got it, the report is so insightful _ thank you !" - JJ, London
~ ~ ~
"I must tell you that I ordered the relationship compatibility report and the ready for love reports on your website. The information I read regarding the issues I have to work out in love were truly life changing! I was never quite aware of these patterns of mine and how detrimental they have been to my relationships. I thought I was being self-sufficient and helping out my partner so that I don't become a burden, I never thought how this could be seen as disrespectful and how it could have eventually pushed away the men I cared for..."
~ ~ ~
"I purchased the relationship compatibility report and it really gave me a lot of insight on why my marriage was not working and why we were getting a divorce. Gave me a sense of calmness and peace with the entire situation. Thank you so very much for the gifts that you provide to me and everyone." - CB, Florida