Due to technical difficulties, please do not place an order right now. We are doing our best to fix these problems ASAP. Please come back later to get your astrology reports.



Vault of the Heavens is an ancient and romantic term for the celestial heavens - where the planets, signs and stars reflect your life and your destiny. As amazing as it is to look at the wondrous canopy of the heavens on a clear night, so it is to see the stellar destiny of your astrological horoscope. We invite you to enjoy the wonder of your life and your relationships through our Vedic Astrology reports.
Available Now
In German
Relationship Compatibility Report - the bottom line on whether you can really have a workable relationship with this person.
Predictive Calendar - "Looking Forward To it!" A one year calendar showing the days on which you can look forward to love, health, wealth, career, etc.
Other Reports
Relationship Capacity Report for Men - Want to check out your Man? This report reveals his ability to treat you right. Or if you are a man, see what's helping or hindering your relationships.
Relationship Capacity Report for Women - For women only...just how ready are you for true love and a real workable relationship? Also use this report to check a potential partner's ability to be a good partner.
Financial Timing Report - A five year long list focusing on important "$" dates for your Finances.
Relationship Timing Report - A five year long list focusing on important "Hot" dates for your Relationships.
Muhurta/Electional Date Finder - to help you find that perfect moment to start something new.
Coming Soon...
Predictive Timing for Career
Astrological Health Report with nutritional counseling based on your horoscope!
---
Email Me when New Reports are Available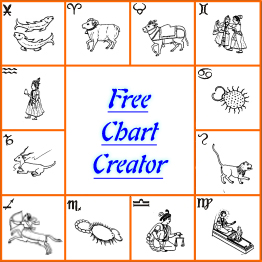 "I look up at the stars and see myself.
My heart is empty as the vast space above or as full as the many stars with the love just found.
I see the distant impossibility of my life or the hope of a new start in that sparking star.
I see my many friends all around, or the long distance between us that keeps us apart.
Whatever it is I see when I look up, I see that it is rightly me."